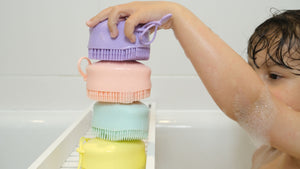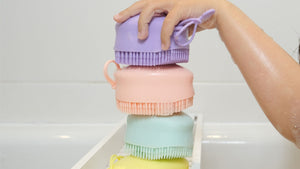 Put bath time fun in the palm of their hands.
Kids enjoy learning to wash with Pebbl
Help your kids master bath time with tactile silicone bristles and lots of foamy fun to teach them how to get the job done.
★★★★★

The brush foams up really well and I only pump once or twice into it. My 4 year old has been practising scrubbing himself too with it and really enjoys getting involved in bath time now.
★★★★★

Product felt soft and smooshiey , perfect for tactile learning
★★★★★

What a fantastic little gadget for kids (and grown ups!). My girls love theirs.
★★★★★

It's particularly 'grape' for our 4 year old to help him spread the foam which in turn helps us feel more reassured he's actually clean!
★★★★★

It works super well for kids of different ages... and in fact, I've started used one myself. It's awesome."
★★★★★

So far the kids are loving it. After using, the cap becomes a bit hard to open. So that's a bit difficult to pass it on to the next child or rinse out. Otherwise great!
Help your child figure out washing with latherfuls of fun.
It's easy to prep baths or shower with a squeeze of soap and a shake. With plenty of suds and no soap wasted it's easy to help kids figure out bathtime.
Make washing easier
Gentle exolfiating silicone bristles and plenty of suds make washing heads, shoulders, knees and toes easy for every child.
Develop your child's motor skills
Gross and fine motor skills are the building blocks of physical development. Pebbl gets your kids hands on with washing and play to reach their full potential in all areas of life.
Build confidence
Empower your kids with hygiene skills and habits that will stay with them for life.
It's about more than 'getting the job done'
Help your kids participate in bath routines. Give them the tool to wash better today and build skills for the future.