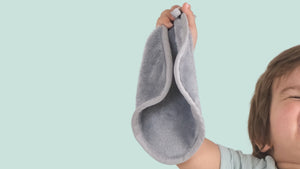 Turn mealtime
cleanup into
child's play.
Easy cleaning
Lift and Trap microfibres make cleaning up food, muck and spills easier for parents and kids.
BUY NOW
No waste in landfill
Unlike traditional wipes, Mushi cloths can be used again and again to reduce waste in landfill.
BUY NOW
Just add water!
No harsh chemicals on your kid's skin, just wet cloths that work better than tradditional wipes.
BUY NOW
Hassle-free meal time cleanup. So simple your toddler can do it!
Take the stress out of mealtime cleanup
Big on kids feeding themselves, but not big on the mess that goes with it? Mushi Lift & Trap microfibres remove muck and mess with just water for clean faces, hands and tables without any fuss.
Mushi cleans up better than wet wipes!
Disposable wipes push food and muck around faces. Mushi microfibres swell when wet and trap food and muck within the strands of the cloth for easy cleaning, no matter how messy the mealtime.
The sustainable way to clean up your kids
Rinse
Run Mushi cloths under warm water before use and wring out excess water before use.
Wipe
Wipe up mucky faces and hands with the damp Mushi cloth or let your toddler wipe up themselves
Wash
Put particularly soiled cloths in the washing machine as part of a standard wash. And repeat!
We designed Mushi to make our own mealtime clean up easy
We were tired of the relentless routine of meal time clean up. We wanted to get our kids more involved in cleaning themselves up and we wanted a solution that was waste-free.