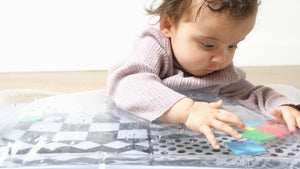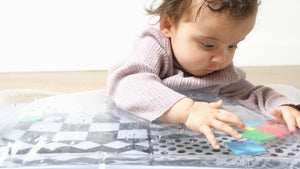 The sensory
play mat
that makes
tummy time fun.
Engage your baby for longer with 4-in-1 sensory play
Heads Up keeps baby's attention so they can comfortably spend longer on their front and build the motor skills necessary to reach, roll, sit and crawl.
What do parents think of Heads Up?
★★★★★

We really struggled to get our 3 month old to do more than a couple of minutes of tummy time, but this has helped SO much to keep her occupied ! She's coming along so well with it now. Fantastic product, thank you.
★★★★★

Our 3 month old has a pretty strong neck and does a fair amount of tummy time, but this mat has made it easier for us to keep it fun and interesting for her. She loves the bold patterns and it's nice to switch things up!
★★★★★

The tummy time play mat has been a revelation for my 4 month son! Looking forward to what's next!
★★★★★

Saw on tiktok. Baby's only see black and white so this is nice design compared to some designs. Meant to have been doing everyday and this is helping.
★★★★★

3 month old girl is enjoying this. Still working up to spending more of the day on tummy, but Grasp mat is something she enjoys now
★★★★★

This really made tummy time enjoyable. Now as my baby has grown and is just beginning to crawl, she still enjoys playing with it.
★★★★★

The contrast between the black and white background and the vibrant moving colors is STELLAR!!!!!! THE BEST baby water mat !!!!!! Highest, highest recommendation!!!
★★★★★

Baby nephew was fascinated by the shapes, colours and floaty bits. Love how easy it is to clean and put away and that it folds up small. Great communication from seller and quick delivery
Help your baby be active & healthy
Supports development of your baby's core strength so they can be active easily.
ADD TO BASKET
Improve your baby's hand-eye coordination
4-in-1 sensory stimuli help your baby connect hand & body movements with what they're seeing.
ADD TO BASKET
Helps your baby reach, roll, sit and crawl
Gets your baby mobile so they can meet the right development milestones.
ADD TO BASKET
Is your baby doing enough tummy time?
Heads Up makes it easier for your baby to spend time on their front with its engaging, 4-in-1 sensory shapes, colours and cushioning.
We designed a playmat that worked for our own kids
Tummy time with each of our 3 kids was hard work. We wanted to make it straightforward for other parents. We designed Heads Up to engage babies' bodies and minds so they could enjoy spending longer on their front and building the skills they needed to thrive.